Sound:











Value:











(Read about our ratings)
My first thought when I opened the Sivga Luan box was, "Wow, these are gorgeous." It has been a while since I've reviewed something so visually stunning. The Turtle Beach headphones from a few weeks ago were bland at best. The Yamaha headphones were unquestionably impressive, but their black-on-black design was intentionally rather subdued.
Then there are the Luans. My sample was a color Sivga simply calls "Brown," but that's underselling it. They're far brighter than that, almost orange in certain lights. In a sea of blacks, silvers, and creams, the Luans stand out in the best way. There's a certain "retro-ness" to their design that I dig. The Luans are also available in black if that's your thing.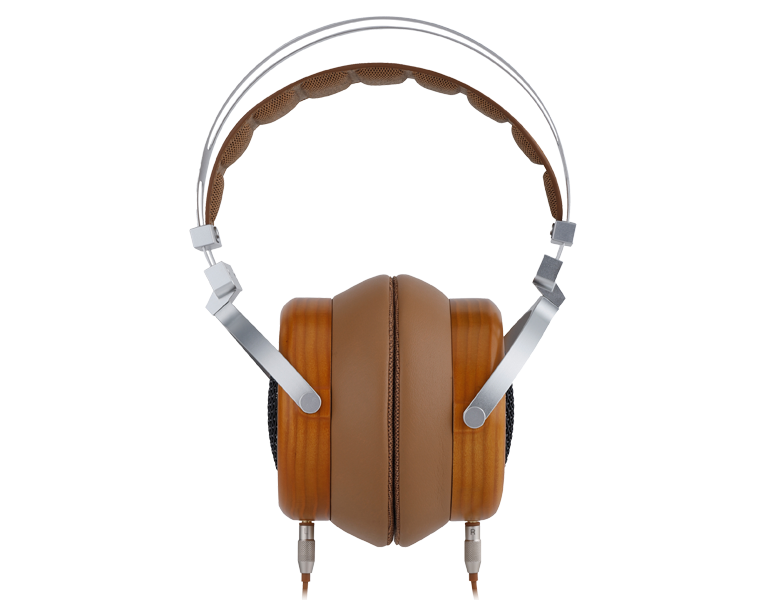 Color aside, they're a fairly traditional open-back design, with 50mm dynamic drivers. Those drivers are made from a carbon-fiber composite, however. No Bluetooth or electronics to weigh them down—the Luans are all analog. They retail for $299 (all prices USD), which is a great price for audiophile-friendly headphones. They certainly look a whole lot better than most $300 headphones. What about their sound?
In the box
In the box you get a leather-wrapped hardshell carrying case, a lovely hemp bag with the cable, and a 3.5-to-6.4mm (¼″) adapter. There's also one of those delicious silica-gel sachets. They say, "Do Not Eat," but you're not my supervisor.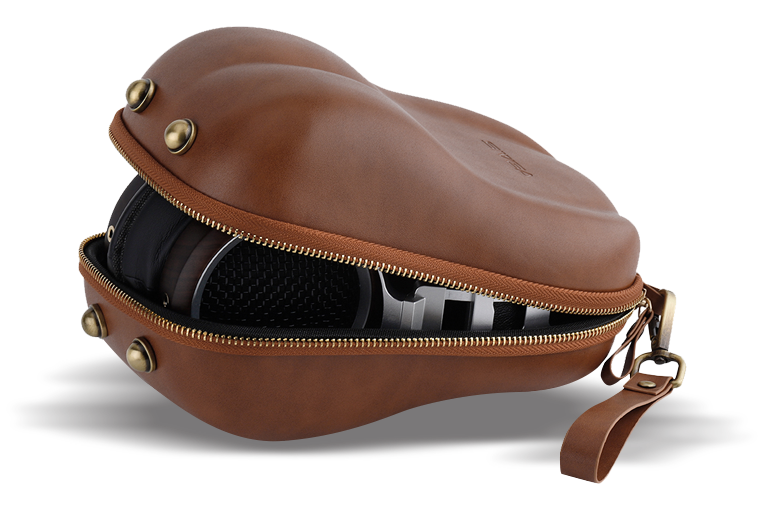 Use
These are wonderfully comfortable headphones. Fairly lightweight (345gm) with big, soft earcups, they're a delight to put on your head and wear. That weight is about the same as the Sony WH-1000XM5s ($398), another pair of easy-to-wear headphones, though not quite as light as the Sennheiser HD 660S2 headphones ($599.95). They disappear on your head better than either of those headphones, however, due to their wide pads and extra-soft materials.
Sound
Broadly speaking, I'd describe the Luans as "treble friendly." They've got a lean towards brightness, with solid midrange and fairly subdued bass.
I started with R.E.M.'s "Man on the Moon" from Automatic for the People (24-bit/96kHz FLAC, Warner / Qobuz). There was a wide spaciousness to the sound, as you'd hope from open-back headphones. William Berry's cymbals and other percussion, along with Michael Stipe's vocals, were fairly forward in the mix. The bass guitar and kick drum weren't buried, but they were definitely lower than I've heard with other headphones. While the treble was detailed, fortunately it wasn't biting or harsh.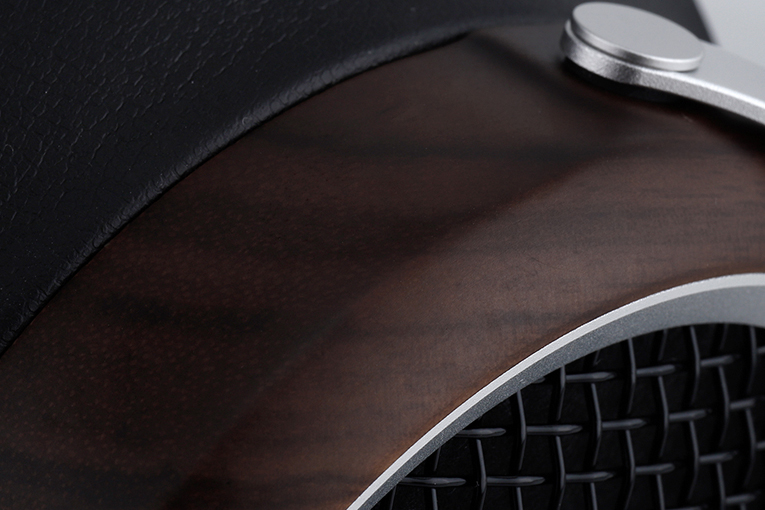 During José González's "Crosses," (Veneer 16/44.1 FLAC, Imperial / Qobuz), each pluck of his guitar was clear, but the mellow nature of this song and album remained. "Heartbeats" is the song everyone knows from this album, and rightly so. I would have liked a little more airiness to the sound, but this higher treble range was somewhat subdued, much like the lower bass.
Switching to a different kind of acoustic track, I put on "Soul Eyes" by the John Coltrane Quartet (Coltrane, 24/192 FLAC, Impulse! Records / Qobuz). Coltrane's breathy, lyrical sound figuratively took center stage in the mix, as was appropriate. Of course, in terms of the actual soundstage, it was well over my left shoulder, as he's panned hard to that channel.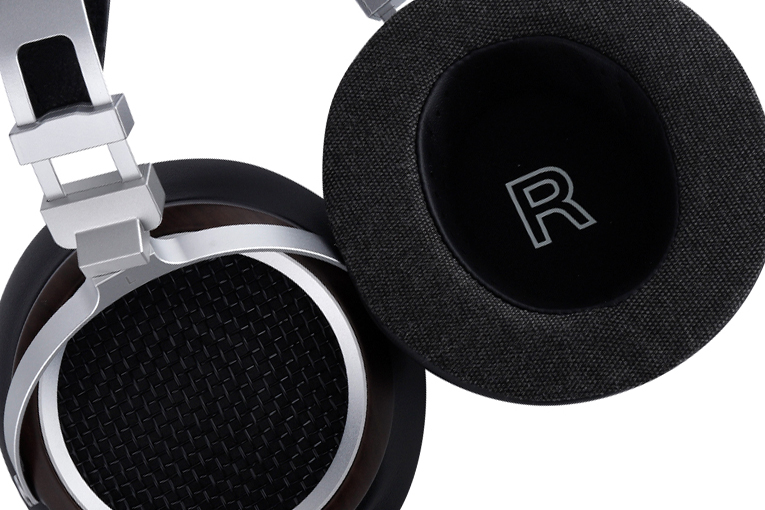 With Rush's "Limelight" (Moving Pictures, 24/192 FLAC, Mercury Records / Qobuz), Neil Peart's toms and cymbals, along with Geddy Lee's voice and Alex Lifeson's guitar, are the focus. The bass drums and Lee's bass guitar were present enough that the Luans never seemed lacking in bass, but they were definitely softer here than with more neutral headphones.
Comparison
First up to face off against the Luans were the HiFiMan Deva Pro headphones ($329). These are also open-back, but they have planar-magnetic drivers. They come with a Bluetooth dongle that attaches to the left earcup; remove that and they're analog.
The Devas are a little lighter, but with their narrower pads they're not more comfortable. With Queen's "You're My Best Friend" (A Night at the Opera, 24/96 FLAC, EMI Records / Qobuz), the Devas had better immediacy and attack, not surprising given that those are strengths of planar-magnetic drivers. The sound otherwise was surprisingly similar. The bass was still fairly subdued, though there was still enough when Roger Taylor did his big drum fills. The soundstage was similarly wide, though a little wider on the Devas. I found the upper treble / lower midrange a little harsher on the Devas. The Luans were easier to listen to overall.
To better test their bass prowess, I tried Hilary Woods's "I" from Feral Hymns (24/48 FLAC, Sacred Bones / Qobuz). This atmospheric track has eerily moody low bass, like you're being stalked by a hound in a misty West Country moor. The Devas had more deep bass, though it was less defined and lacked tonality compared to the Luans. It was more rumble than actual instruments.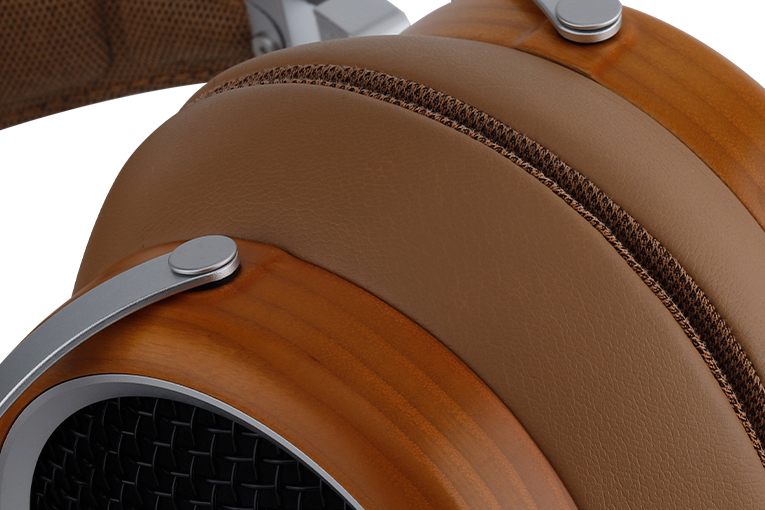 I tried this same track with the Beyerdynamic DT 990 Edition headphones ($219). I've long used these as a reference, and while they're cheaper than the Luans, both headphones are open-back with dynamic drivers and have a somewhat similar sonic profile. These are extremely lightweight and comfortable headphones, though they don't balance their weight on the earpads and headband as well as the Luans. With "I" there was even less bass through the 990s, and the soundstage wasn't as wide. The instruments were well defined, however.
I changed things up with Molly Tuttle's "Yosemite" (City of Gold, 24/96 FLAC, Nonesuch Records / Qobuz), a great acoustic bluegrass song featuring Dave Matthews. Through the 990s the fiddle, mandolin, and acoustic guitars all blended smoothly with the vocal harmonies. Those all had better separation through the Luans, however, and the soundstage was wider.
Conclusion
I think comfort is an underrated aspect of headphones. I've reviewed far too many headphones recently that I wouldn't want to wear or listen to for an extended length of time. The Luans are so delightfully comfortable that they're like putting on your favorite pair of sweatpants after a long day. The sound profile had less bass than I typically like, but I prefer extra bass in my headphones. Thankfully, the treble is smooth enough that they're still a great listen. If you're not a fan of bass, but you find more treble-focused headphones too harsh for extended listening, check these out.
. . . Geoffrey Morrison
This email address is being protected from spambots. You need JavaScript enabled to view it.
Associated Equipment
PC: iBuyPower Windows 10.
Portable media player: Sony NW-A306.
Amplifier: iFi Audio Hip-dac2.
Sivga Luan Headphones
Price: $299.
Warranty: One year.
Sivga Electronic Technology Co., Ltd.
Building No. 1, Juhui E Valley, High-tech Industrial Zone
Jinfu 2nd Road, Tangchun Village, Liaobu Town
Dongguan, Guangdong, China 523000
Phone: 0086-0769-22885985
Website: www.sivgaaudio.com